Blogs
The latest cybersecurity trends, best practices, security vulnerabilities, and more
ARCHIVED STORY
Nation States Will Weaponize Social and Recruit Bad Guys with Benefits in 2022
By Raj Samani · October 31, 2021
McAfee Enterprise and FireEye recently released its 2022 Threat Predictions. In this blog, we take a deeper dive into the continuingly aggressive role Nation States will play in 2022.
Prediction: Lazarus Wants to Add You as a Friend
By Raj Samani
We love our social media. From beefs between popstars and professional pundits, to an open channel to the best jobs in the industry.
But guess what?
The threat actors know this, and our appetite toward accepting connections from people we have never met are all part of our relentless pursuit of the next 1,000 followers.
A result of this has seen the targeting of executives with promises of job offers from specific threat groups; and why not? After all, it is the most efficient method to bypass traditional security controls and directly communicate with targets at companies that are of interest to threat groups. Equally, direct messages have been used by groups to take control over influencer accounts to promote messaging of their own.
While this approach is not new, it is nearly as ubiquitous as alternate channels. After all, it does demand a level of research to "hook" the target into interactions and establishing fake profiles are more work than simply finding an open relay somewhere on the internet. That being said, targeting individuals has proven a very successful channel, and we predict the use of this vector could grow not only through espionage groups, but other threat actors looking to infiltrate organizations for their own criminal gain.
Potential Impacts & Implications
The potential impacts and implications for an executive or company that had their social media channels targeted by threat actors are endless. We began to see some nation state groups using platforms like LinkedIn to target executives, more specifically targeting the defense and aerospace industry. For years we've been accepting connections on LinkedIn to expand our network and threat actors are using this to their advantage with job adverts. Threat actors will find the executive they want to target in the company they want to go after and develop profiles that look like legitimate recruiters. By getting an executive on the hook, they could potentially convince them to download a job spec that is malware. These types of espionage campaigns can be carried out by other social networks as well, including Twitter, Instagram, Reddit, etc.
Techniques & Tactics
In the past, fake social profiles were relatively easy to spot, however in the case of DPRK, the cybercriminals spent time to setting up a profile, get hooked up into the infosec scene, gain followers and connections through LinkedIn, making it more difficult than before to detect a fraudulent account. When threat actors weaponize social media, they use techniques and tactics you see in the legitimate world. They diligently do their research into what types of jobs would be of interest to you and share an offer that will require you to open a document and trick you to carry out some type of action that will have you download malicious content onto your device.
Who Can Regulate?
We live in a world where we are governed by rules, territories, and jurisdictions; to hold a threat actor accountable, we would need digital evidence. We need to use regulations for digital investigations, and the bad guys don't. While in territories where there isn't an extradition treaty, threat actors can continue their malicious behaviors without any consequences. Unfortunately, cybercrime has nonrepudiation and threat actors can deny all knowledge and get away with it.
Prevention
Cybercrime will always be an issue and we need to be more aware of what threat actors are doing and what they're after. It's important to understand the threat and what is happening. At McAfee Enterprise and FireEye we work to track malicious actors and integrate intelligence into our products and make content available for CISO, CEO etc. to know what to do and what to look for in the event they are targeted.
Prediction: Help Wanted: Bad Guys with Benefits
By Christiaan Beek
With a focus on strategic intelligence, our team is not only monitoring activity, but also investigating and monitoring open-source-intelligence from a diversity of sources to gain more insights into threat-activities around the globe – and these include an increase in the blending of cybercrime and nation-state operations.
In many cases, a start-up company is formed, and a web of front companies or existing "technology" companies are involved in operations that are directed and controlled by the countries' intelligence ministries.
In May 2021 for example, the U.S. government charged four Chinese nationals who were working for state-owned front companies. The front-companies facilitated hackers to create malware, attack targets of interest to gain business intelligence, trade-secrets, and information about sensitive technologies.
Not only China but also other nations such as Russia, North Korea, and Iran have applied these tactics. Hire hackers for operations, do not ask questions about their other operations if they do not harm the interests of their own country.
Where in the past specific malware families were tied to nation-state groups, the blurring starts to happen when hackers are hired to write code and conduct these operations.
The initial breach with tactics and tools could be similar as "regular" cybercrime operations, however it is important to monitor what is happening next and act fast. With the predicted increase of blurring between cybercrime and nation-state actors in 2022, companies should audit their visibility and learn from tactics and operations conducted by actors targeting their sector.
Potential Impacts & Implications
With more tools at their disposal, nation state actors are reshaping the cyberthreat landscape leaving destruction and disrupted operations in their wake. There have been many accusations of "spying" which poses as a major threat to economic and national security. The main aim of these attacks is to obtain intellectual property or business intelligence. We are seeing nation states devoting a significant number of resources, time and energy toward achieving strategic cyber advantages, resulting in the implications of divulging national interests, intelligence-gathering capabilities, and military strength through espionage, disruption and theft.
Techniques & Tactics
In May 2021 incident where four Chinese nationals were charged in a global hacking campaign; the indictment stated the threat actors used a front company to hide the Chinese government's role in the information theft. We anticipate nation states will continue to team up with cybercriminals and create front companies to hide involvement and gain access to private information, military tactics, trade secrets and more. Adversaries will leverage techniques like phishing, known vulnerabilities, malware, crimeware and more to attain their goal.
On the blending of cybercrime/nation-state; understanding the functionalities of malware becomes more important than ever. Let me give an example, when you get a Trickbot infection, a part of the code will steal credentials, they could be sold to a ransomware crew with a possible ransomware attack as result, a complete cybercrime operation. But what if the Trickbot infection was ordered by a Nation State, the credentials are used for a long time operation; started as a crime, ends as a long APT.
Who Can Regulate?
It's important for governments to hold actors accountable for cyber incidents. Government entities and researchers can likely assist public and private sector organizations in navigating this new cyber landscape by developing standards and/or template processes to drive cyber defense and maintaining operational resiliency.
Prevention
A threat actor's goal is to gain access to data they can sell, leverage for ransom, or gain critical knowledge so it is important to properly encrypt critical data, rendering it unusable to unauthorized users. You should also maintain regular, offline backups and have an incident response plan ready. Maintaining and testing offline backups can similarly mitigate the impact of destructive malware.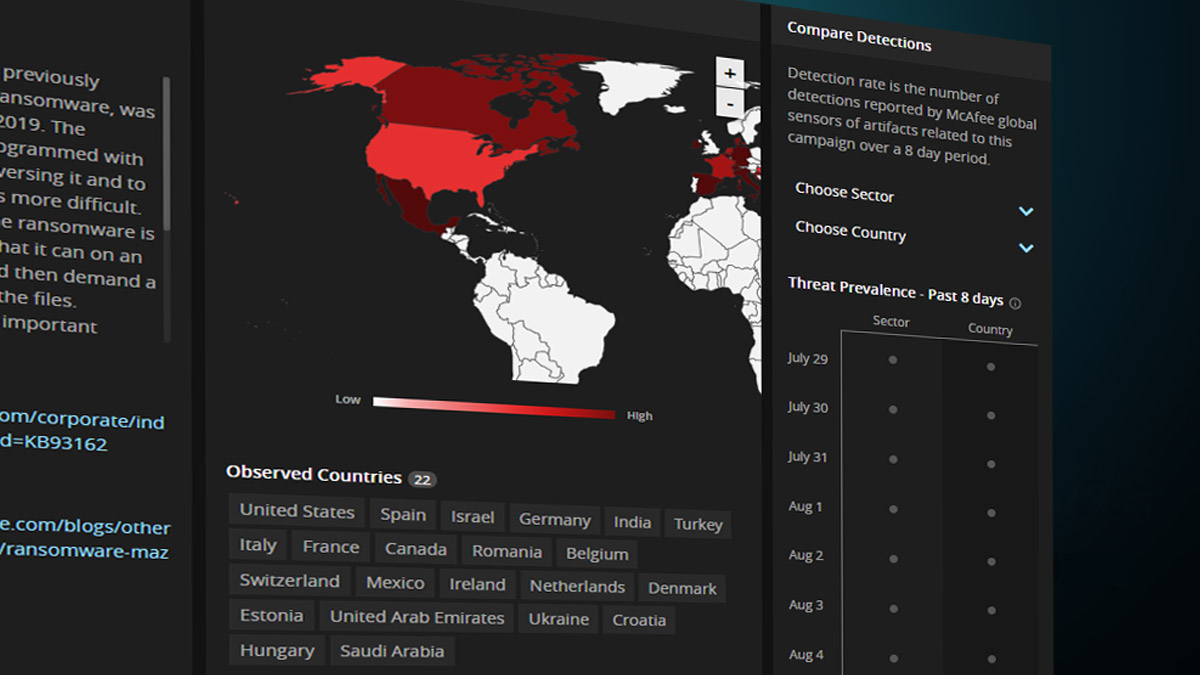 Explore a preview of the only proactive solution to stay ahead of emerging threats.
Get the latest
We're no strangers to cybersecurity. But we are a new company.
Stay up to date as we evolve.
Zero spam. Unsubscribe at any time.