Blogs
The latest cybersecurity trends, best practices, security vulnerabilities, and more
Trellix Welcomes Karan Sondhi as Public Sector CTO, And More
By Ken Kartsen · September 22, 2022
This week, Trellix announced that Karan Sondhi will be joining us as Chief Technology Officer for Public Sector. In this role, he will define and lead the implementation of the company's public sector technology strategy.
Karan joins Trellix having driven U.S. federal government technology initiatives at the U.S. Central Intelligence Agency, General Dynamics, Booz Allen Hamilton and most recently at Microsoft. As Microsoft's Chief Technology Officer for U.S. Department of Defense's Joint Enterprise Defense Infrastructure (JEDI) Program, he led the vendor's efforts at the Pentagon to implement a comprehensive security strategy for the massive initiative. Prior to Microsoft, he led the CIA's efforts to implement advanced blockchain technologies across a variety of new agency applications.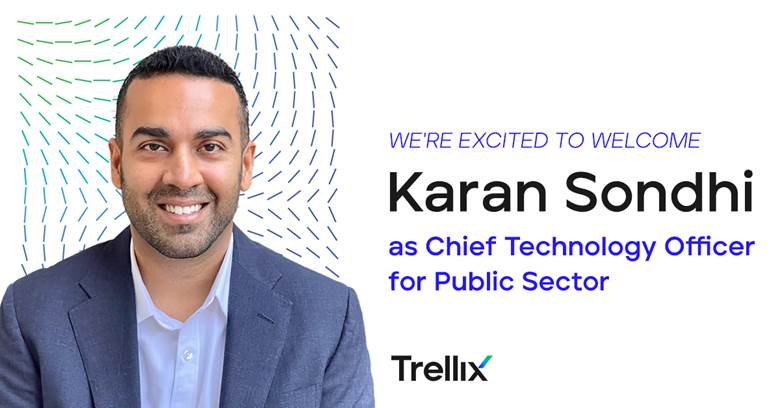 Karan's experience with large programs such as JEDI at DoD and blockchain and cryptocurrency at CIA arm him with unique insights into the government's current and future security requirements, as well as the substantial challenges to and opportunities for future innovation across its agencies.
Upon joining the team this week, Karan said:
"Trellix has built an incredible team and stack of security technologies to support the U.S. Government. I'm thrilled to have the opportunity to lead the public sector team's technical strategy for implementing XDR across the U.S. Government. The Biden Administration's 2021 cybersecurity executive order demonstrated tremendous executive leadership to spur implementation of Endpoint Detection and Response (EDR) to counter sophisticated nation-state cyber threats to our country. I look forward to joining Trellix's effort to not only enable agencies to fulfill this short-term mandate of the executive order, but also empower them to build out XDR capabilities to address long-term cyber defense needs.
Trellix also builds on a decades-long track record of success implementing advanced cyber defenses within the U.S. government under the McAfee Enterprise and FireEye brand. The company is particularly well positioned with its native and open XDR platform, allowing agencies to seamlessly integrate a wide range of third-party tools with its growing portfolio of infrastructure, security operations and data protection solutions."
And more...
Trellix continues to invest on various fronts to bolster its commitment to being the cybersecurity partner of choice to the U.S. government. Other recent Trellix public sector efforts include:
Trellix Endpoint Detection and Response's (EDR) completion of DHS CISA's Continuous Diagnostics and Mitigation (CDM) EDR requirements testing, allowing agencies to easily purchase the CISA-tested and pre-approved solution.
Trellix EDR's candidacy for the Federal Risk and Authorization Management Program (FedRAMP) Authorization designation at the High Security Impact Level.
Trellix EDR's candidacy for the DoD's Defense Information Systems Agency (DISA) status at Impact Level 5, simplifying the process by which DoD agencies procure secure systems with confidence.
Finally, we welcome our industry peers to join us October 19th at The Waldorf Astoria, Washington, DC for the Trellix Cybersecurity Summit. The event features perspectives from a variety of thought leaders and guidance on how XDR can be implemented to meet agencies' cyber defense objectives:
Caroline Bean, Acting Director for Joint Enterprise Services Directorate, DISA
Rob Joyce, Director of Cybersecurity, NSA
Luke McCormack, Former CIO, DHS
Kurtis Minder, CEP, GroupSense
For more information on the Summit, please visit us here.
The latest from our newsroom
Blogs
| Perspectives
By Brian B. Brown · October 16, 2023
Get a recap of key learnings from the Ransomware Detection and Response Virtual Summit and learn to protect your organization against ransomware attacks.
Blogs
| XDR
By Nico Devoti · October 9, 2023
Trellix SIA Business Development lead explains the evolution of Trellix Security Innovation Alliance (SIA) partner program, its unique benefits, and why this should be top of mind for customers.
Blogs
| Research
By Alexandre Mundo, Max Kersten, and Leandro Velasco · October 9, 2023
New ransomware attacks occur daily, including Rhysida ransomware. This blog aims to improve defenders' security with insights and detection rules.
Get the latest
We're no strangers to cybersecurity. But we are a new company.
Stay up to date as we evolve.
Zero spam. Unsubscribe at any time.