ARCHIVED STORY
FireEye to Improve Response to Privileged Access-Related Incidents With CyberArk
By Christopher Unick · September 09, 2019
As organizations increase investments in automation and agility – from cloud and DevOps to robotic process automation, Internet of Things and more – the privileged-related attack surface continues to expand rapidly. Today, these privileged credentials and secrets exist everywhere and attackers know it. This is why nearly 100 percent of all advanced attacks today rely on the exploitation of privileged credentials to reach a target's most sensitive data, applications, and infrastructure. As a result, organizations need to prioritize privileged access security and bolster their detection and response capabilities so they can quickly take control of privileged access-related security incidents.
There are potentially thousands of events occurring within organizations' networks every day. Tracking and identifying the most critical ones can be a tall order for even the most well-staffed organizations. FireEye, the leader in stopping today's advanced cyber attacks, and CyberArk, the global leader in privileged access security are collaborating to give organizations broad visibility into their privileged access landscape – on-premises, across hybrid environments and in DevOps pipelines – to enable faster detection and response for mutual customers when critical events occur. Together, FireEye Helix and the CyberArk Privileged Access Security Solution bring visibility of privileged events occurring throughout the organization and help minimize damage if privileged access is compromised by:
Sending alerts from CyberArk to FireEye Helix for suspicious behavior involving privileged accounts; minimizing the risk of attack by malicious insiders and external threat actors.
Providing organizations with the ability to detect suspicious content found on the CyberArk Endpoint Privilege Manager against FireEye Malware Analysis.
Resetting credentials in the CyberArk Vault from FireEye Helix orchestration with CyberArk to help accelerate incident response time.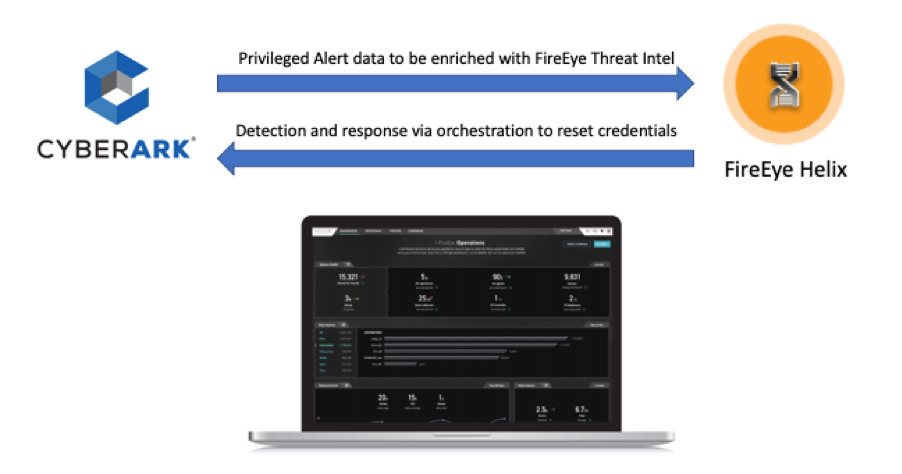 These integrations empower our customers to broaden their view of the security landscape and reduce the time to respond to threats. Integrated FireEye and CyberArk solutions help close cyber security gaps and deliver the following organizational benefits:
Enterprise-wide, real-time visibility to identify and investigate critical security threats associated with privileged activity, enriched with the latest threat intelligence.
Enhanced forensics analysis and evidence collection by drilling-down into privileged user sessions to understand the true nature and scope of the event.
Diverse set of compliance requirements with individual accountability combined with detailed tracking and reporting on all privileged activity.
Improved security with end-to-end privileged activity lifecycle management.
Fast and effective automation to incidents via orchestration.
To learn more about these FireEye and CyberArk integrations, please visit either the FireEye Market or the CyberArk Marketplace.
The latest from our newsroom
Blogs
| XDR
By Grant McDonald · September 18, 2023
Read Trellix's take on the 2023 Gartner® Market Guide for Extended Detection and Response, including 5 key focus areas and the benefits Trellix XDR delivers.
Blogs
| XDR
By Harold Rivas · September 13, 2023
After engaging customers & fellow CISOs, Trellix CISO Harold Rivas emphasizes XDR's game-changing value for SOCs. 5 key insights for newcomers.
Blogs
| Perspectives
By Martha Vasquez · September 12, 2023
Explore how Trellix vIPS + GWLB enhance infrastructure, ensuring high availability & traffic handling.
Get the latest
We're no strangers to cybersecurity. But we are a new company.
Stay up to date as we evolve.
Zero spam. Unsubscribe at any time.