Unravel the XDR Noise and Recognize a Proactive Approach
By Kathy Trahan · January 19, 2022
Cybersecurity professionals know the information overload drill all too well. XDR (Extended Detection & Response) continues to be a technical acronym thrown around in the cybersecurity industry with many notations, opinions, analysis, excitement and/or hesitation– or put otherwise, noise that can be difficult to navigate through as professionals are heads down defending against persistent adversaries.
But right now, the most important thing to know about XDR is the sheer potential it offers. Use this time to cut through the noise and jargon to take a step back and have a broader conversation about the role security plays in your overall business objectives. Ask yourself - is it serving as a boon or a burden?
If you answered the latter – or have any doubt – keep reading. We're here to break down the opportunity XDR provides and guide you through how to create the confidence and resiliency needed in today's digital world – one where security works for you, so you can focus on work for your business.
The Basics
As noted earlier, XDR stands for Extended Detection and Response, with "extended" equating to going beyond the endpoint to network and cloud infrastructure. This cross-infrastructure or cross-domain capability is the common denominator for XDR, with it serving as the next evolution of Endpoint Detection and Response (EDR).
Industry Scuttlebutt
Industry experts agree XDR is still relatively early to market, offering varying viewpoints and insights on its potential, yet aligning on the core functionality that should comprise an XDR solution.
Gartner defines XDR as a "SaaS-based, vendor-specific, security threat detection and incident response tool that natively integrates multiple security products into a cohesive security operations system that unifies all licensed components." The analyst firm notes three primary requirements of an XDR system:
Centralization of normalized data primarily focused on the vendors' ecosystem
Correlation of security data and alerts into incidents and,
Centralized incident response capability that can change the state of individual security products as part of incident response or security policy setting.
Enterprise Strategy Group (ESG)  defines XDR as an "integrated suite of security products spanning hybrid IT architectures, designed to interoperate and coordinate on threat prevention, detection and response." In other words,  XDR unifies control points, security telemetry, analytics, and operations into one enterprise system. Cross-vector analytics must be enhanced to track advanced multi-stage attacks. In addition, ESG believes that implementation guidance such as reference architecture is needed to assure successful integrated workflows.
Similarly, Forrester views XDR as the next generation of EDR to evolve by integrating endpoint, network, and application telemetry. The analyst firm views the key goals of XDR to include empowering analysts with incident-driven analytics for root cause analysis, offering prescriptive remediation with the ability to orchestrate it and map uses cases to MITRE ATT&CK techniques and chain them into complex queries that describe behaviors, instead of individual events. Forrester also recently released The Forrester New Wave™: Extended Detection And Response (XDR) Providers, Q4 2021, which looks to further hone in on a common understanding and definition of XDR and its potential for the future.
XDR's Power + Promise
The common denominator across these conversations is that XDR comprises multiple security functions, integrating and curating data across control vectors all working together to achieve better security operational efficiencies while responding to a threat. Why? Because cross control points make sense since adversary movement is erratic and now more adaptable than ever before. Furthermore, XDR solutions emphasize removing complexity and offering better detection and understanding of risks to be able to learn and adapt as threats do.
Currently, we're seeing the range of detect and response capabilities suggesting that it cannot be done by one exclusive vendor, underscoring the importance of working with partners that provide native integrations and open APIs. This is a realistic approach since most organizations do not fulfill their entire security function with one vendor, yet still desire security configuration that is optimized to their specific business needs.
While it may be tempting to leverage an XDR "suite" from one vendor, some critical security functions from another vendor should be included to drive more effective detection and response. This is not a new concept to connect security disciplines to work together, but XDR is advancing how these connections can embed security as an adaptive, living service that works for you, freeing time to focus on the future of your business.
Core XDR Functions
After distilling many points of views and themes on XDR, it seems the core functions all focus on improving security operations immensely during an attack.
We Can All Agree – A More Proactive Approach is Needed
Trellix goes beyond common XDR capabilities and offers unmatched proactivity and prioritization producing smarter and better security outcomes. This means your SOC spends less time on error-prone reactive fire drills with weeks of investigation and more time working in an efficient and effective manner using the power of proactivity and prioritization to get ahead. Imagine getting ahead of the adversary before they attack? Now you can.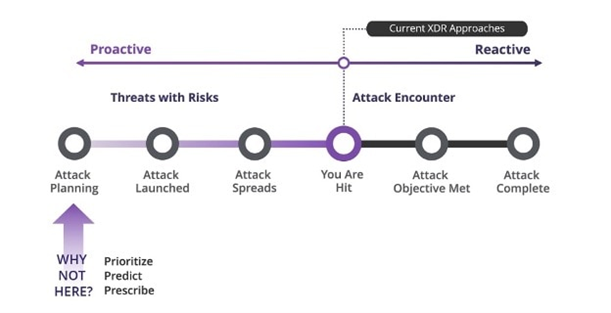 Is XDR for Everyone?
It depends on your organization's current cybersecurity maturity and readiness to embrace the breadth and required processes to obtain the SOC efficiency benefits. The promise to correlate data across an entire business implies the removal of some mundane and manual tasks when trying to understand and action against a threat.
Less mature organizations who do not have resources or expertise and do not consume data intelligence will appreciate this correlation and investigation step, but may not continue the pursuit of what does this mean to me. Medium-to-high mature cybersecurity organizations may not need to do manual work to make sense of data. The difference with mature organizations comes with further investigation and the remediation steps, which less mature organizations may not have the expertise to accomplish. So the real differentiator is that more mature organizations can move quicker to a response mode on a potential threat or threat in progress.
Your XDR Journey
If you are a medium-to-high mature cybersecurity organization, the question becomes how and when. Most organizations using an EDR solution are likely ready to embrace XDR capabilities since their efforts are already investigating and resolving endpoint threats. It's time to expand this effort to gain better understanding of an adversary's movement across the entire infrastructure and we're here to guide you along this journey.
M'informer
La cybersécurité n'a plus aucun secret pour nous. Mais nous sommes une nouvelle entreprise.
Suivez notre actualité et nos nombreux projets.
Nous ne vous enverrons jamais de courrier indésirable. Si vous le souhaitez, vous pouvez vous désabonner à tout moment.